Overwhelmed?
Whakapau Kaha?
Distressed?
Ngākau pōuri?
We have been there too, and
what we've learned may help you.
Mental Health Advocacy and Peer Support (MHAPS)
MHAPS is free and confidential for anyone experiencing mental distress and/or an addiction. We can:
listen to your story… value you and what you know…
help make sense of your experiences… support your voice to be heard…
work with you towards meaningful change.
We've been successfully doing this for over 15 years.
NEWSLETTER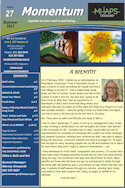 THEMES TALK