Overwhelmed?
Whakapau Kaha?
Distressed?
Ngākau pōuri?
We have been there too, and
what we've learned may help you.
Mental Health Advocacy and Peer Support (MHAPS)
MHAPS is free and confidential for anyone experiencing mental distress and/or an addiction. We can:
listen to your story… value you and what you know…
help make sense of your experiences… support your voice to be heard…
work with you towards meaningful change.
We've been successfully doing this for over 15 years.

Kia ora
MHAPS continues to operate under LEVEL 2 face-to-face, by phone, Zoom, and Messenger.
New client peers:
You're very welcome to drop in. Come in for a 'First step' conversation with a peer worker where you can find out about peer support (individual and group support) and our advocacy service. No appointment is needed between 10am and 3:30pm weekdays (except Tuesday mornings). If you prefer we can arrange a first step meeting online or over the phone.
When entering the office please wear a mask (unless exempt), use our hand sanitiser, and sign in with the COVID tracer app or via our register.
If you have any questions please contact us via phone (03 365 9479), email (reception@mhaps.org.nz), text (022 370 8055), or Facebook message.
Existing client peers:
Please stay in touch with your peer advocate or support worker and make arrangements with them that best suit you.
If you are part of a group please stay in touch with the group facilitator.
Vaccinations:
All MHAPS peers are priority listed for vaccination. We can support you to get vaccinated. You can make an appointment here. COVID-19 vaccines | Unite against COVID-19 (covid19.govt.nz)
The NZ Government COVID-19 website is the official source of information on COVID-19 and has
everything you need to know in one place.
Important information and mental health advice and support can be found here:
https://www.mentalhealth.org.nz/get-help/covid-19/
He waka eke noa – we are all in this together.
Kia kaha
The MHAPS team.
NEWSLETTER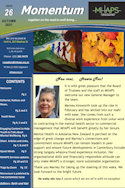 THEMES TALK